New saint proclaimed: Saint John the New Merciful-
Very short portion of video:
РПЦЗ-ИПЦ Греции: На прославлении нового святого (ФОТО, ВИДЕО)
ROCOR & Genuine Orthodox Church of Greece: On the glorification of the new saint (PHOTOS, VIDEO)
Автор: Митрополит Агафангел.
Author:
Metropolitan Agafangel
.
Дата публикации:
Date of publication:
28 апреля 2018
April 28, 2018
.
.
Категория:ИПЦ Греции.
Category:
CPI of Greece
.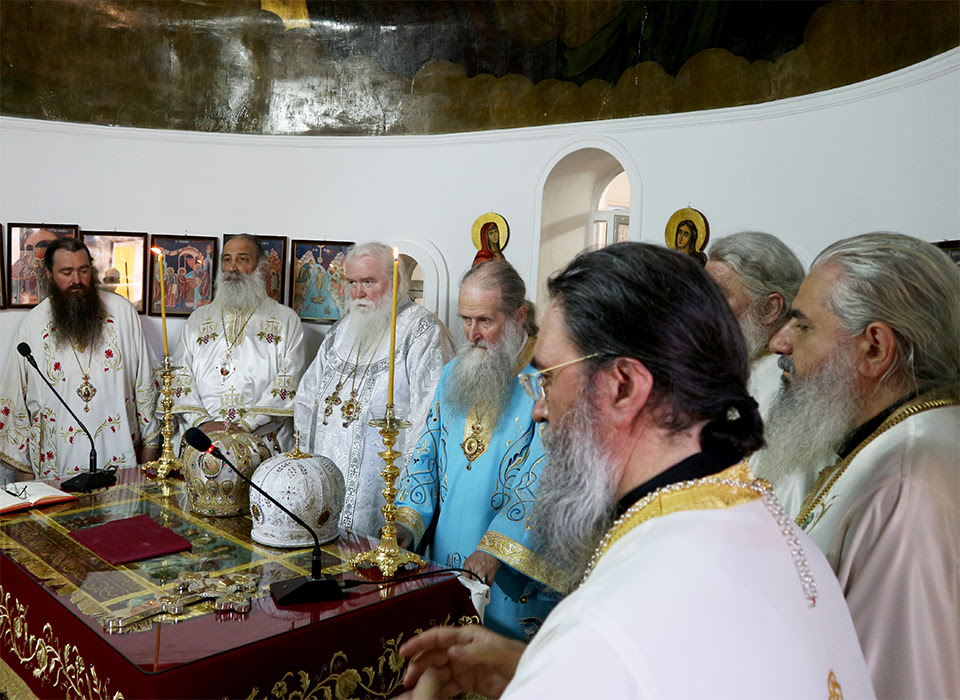 28 апреля (по н.с.) Истинно Православная Церковь Греции, которую возглавляет Синод под управлением Архиепископа Афинского и всея Греции Калинника, прославила святого Иоанна Нового Милостивого (+1966), благодатного священнослужителя Греческой Старостильной Церкви, украшенного чудесными знамениями при жизни и после смерти.
April 28 (to current date) The Genuine Orthodox Church of Greece, led by its Synod under the authority of the His Beatitude, Kallinikos, Archbishop of Athens and All Greece, glorified St. John the New Merciful (+1966), a blessed clergyman of the Greek Old Calendar Church, adorned with miraculous signs in his life and after his death.
Для участия в этих торжествах, к прибывшим ранее Митрополиту Агафангелу и протодиакону Михаилу, присоединился прилетевший накануне вечером Епископ Хайфский Роман (РПЦЗ).
To participate in these celebrations, ROCA's Metropolitan Agafangel and Protodeacon Michael, who arrived earlier, were joined by the Bishop of Haifa, Vladyka Roman (ROCA) who arrived the night before.
Всего за Божественной Литургией молились 16 архиереев из ИПЦ Греции, ИПЦ Румынии и Русской Зарубежной Церкви.
In all, 16 bishops from the Greek GOC, the Romanian Genuine Orthodox Church, and the Russian Church Abroad prayed together in the Divine Liturgy.
Прославление прошло торжественно и завершилось крестным ходом вокруг всего квартала.
The glorification was very solemn and ended with the outdoor Cross-Procession around the whole quarter.
Память новопрославленного святого 26 января/8 февраля.
Memory of the newly glorified saint is: January 26 / February 8.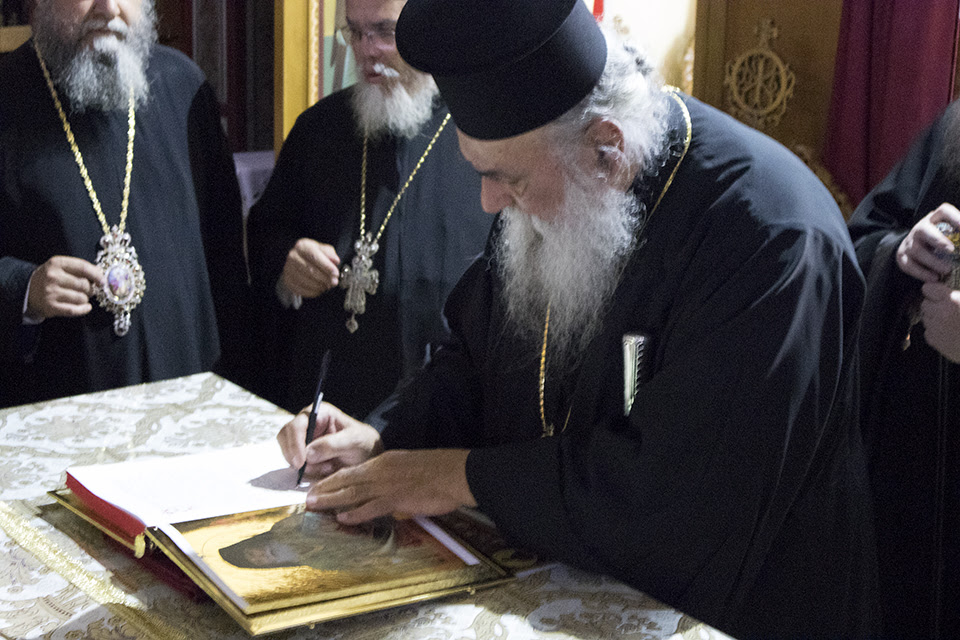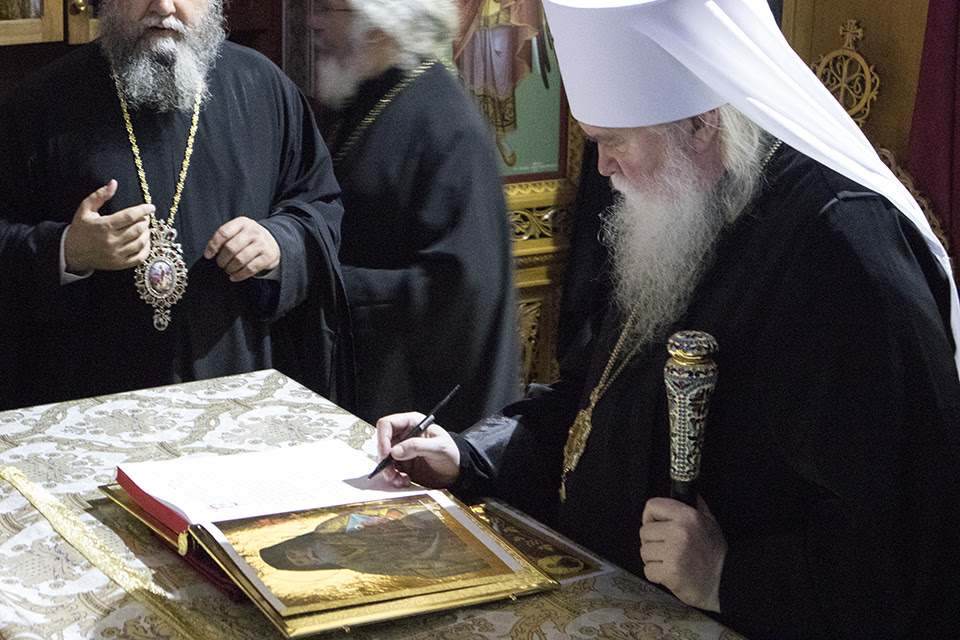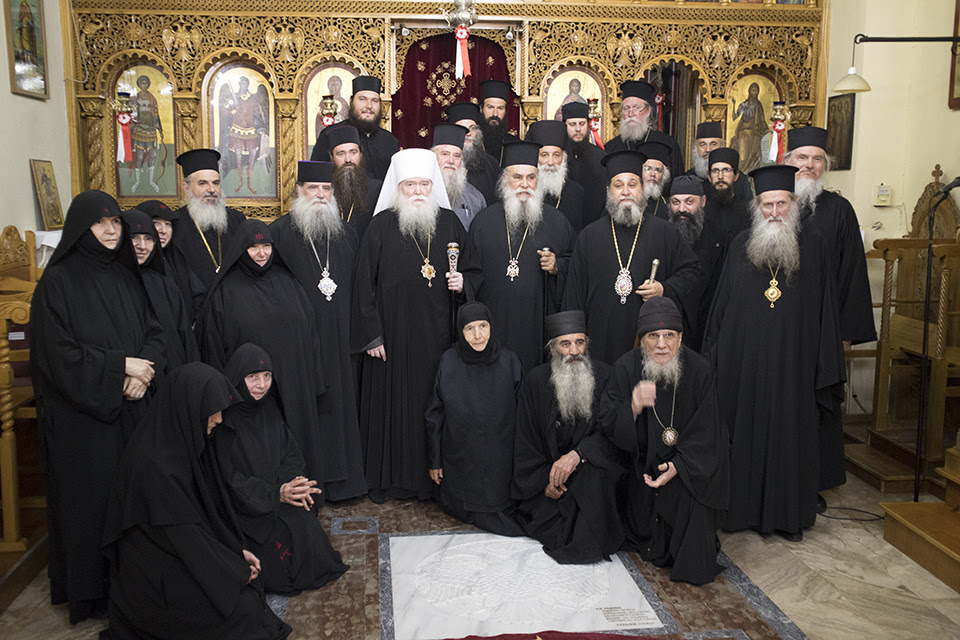 Архиепископ Калинник, от Греческой Церкви передал в дар Митрополиту Агафангелу и РПЦЗ частицу Мощей святого и его икону.
Archbishop Kalinnikos, from the Greek Church donated to ROCA Metropolitan Agafangel and ROCA, a portion of the relics of the saint and his icon.