Metropolitan Agafangel: Paschal Message of 2017
Автор: Митрополит Агафангел вкл.
Author: inc.
18 Апрель 2017
18
Metropolitan Agafangel
April 2017
.
.
Опубликовано в Авторская колонка (Просмотров: 33)
Posted in
Author's column
(Views: 33)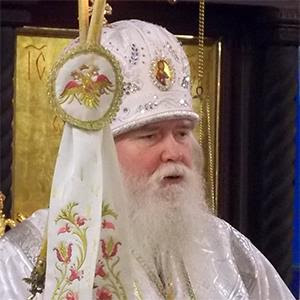 Пасхальное послание Paschal
Message
Первоиерарха Русской Православной Церкви Заграницей
First Hierarch of the Russian Orthodox Church Outside of Russia
Истинно, истинно говорю вам: слушающий слово Мое и верующий в Пославшего Меня имеет жизнь вечную, и на суд не приходит, но перешел от смерти в жизнь (Ин 5.24).
Verily, verily, I say unto you, He that heareth my word, and believeth on Him that sent me, has everlasting life, and cometh not unto judgment, but passed from death into life (Jn. 5.24).
Дорогие собратья архипастыри и пастыри, монашествующие и мирские, все, любящие Господа!
Dear fellow archpastors and pastors, monastics and the laity, all who love the Lord!
Христос Воскресе!
Christ is Risen!
Люди маловерующие или совсем неверующие думают, что жизнь скоротечна, она зародившись иссякает и человек умирает безвозвратно – жизнь временна, а смерть вечна.
People of little faith or who are absolutely unbelievers, think that life is fleeting, it begins to dry out and a person dies irrevocably - life is temporary, and death is eternal.
Такая убеждённость свойственна большинству людей, она понуждает получать от жизни максимум благ и удовольствий, поскольку только в этом эти люди находят смысл.
Such a conviction is characteristic of most people, it compels to receive from life a maximum of benefits and pleasures, because only in this these people find meaning.
Но, хорошо известно, что нет на земле таких удовольствий, которые раз и навсегда могли бы удовлетворить человека, по слову Спасителя: "Пьющий воду сию, возжаждет опять" (Ин 4.13).
But, it is well known that there are no such pleasures on the earth that once and for all could satisfy a person, according to the Savior's words: "He who drinks this water, will thirst again" (Jn 4.13).
В действительности же, наоборот – смерть временна, а жизнь вечна , – эта истина пронизывает всё Священное Писание.
In fact, on the contrary - death is temporary , and life is eternal , - this truth permeates all the Holy Scriptures.
Те, кто верит в вечную жизнь, живут совершенно иначе, чем те, кто верит в вечную смерть – одни боятся Бога, а другие – смерти.
Those who believe in eternal life live in a completely different way from those who believe in eternal death - some fear God and others fear death.
"Что мне делать, чтобы наследовать жизнь вечную?"
"What shall I do to inherit eternal life?"
(Мк 10.17)
– спросил некто у Господа, на что Иисус ответил: "Последуй за Мною, взяв крест" (Мк 10.21).
(Mk. 10.17) - someone asked the Lord, to which Jesus replied: "Follow Me, taking up your cross" (Mk 10.21).
Великий пост есть образ жизни человека, последующего за Христом.
Lent is the daily way of life of a person who follows Christ.
Через покаяние мы соединяемся со Христом, умираем с Ним и Воскресаем.
Through repentance we unite with Christ, we die with Him and are Resurrected.
П

осле того, как Христос стал первым из умерших, кого ад не смог удержать в своих безднах, п

уть к вечной жизни проходит через временную и краткосрочную смерть.
After Christ became the first of the dead, whom hell could not hold in its abysses, the path to eternal life passes through temporary and short-term death.
Те, кто умер со Христом, с Ним и воскреснут в вечную жизнь, те, кто умер без Христа, воскреснут в вечное осуждение.
Those who have died in Christ, with Him, will rise into eternal life, while those who have died without Christ will be resurrected into eternal condemnation.
Не бойтесь смерти, бойтесь Бога, Который Один только может даровать вечную жизнь и избавить от безконечного осуждения.
Do not fear death, fear God, who alone can bestow eternal life and deliver from the infinite condemnation.
Бойтесь нарушить Его святую волю, потому, что воля эта – к нашему благу и вечному спасению!
Be careful not to violate His holy will, because this will is to our good and our eternal salvation!
Воистину, Воскресе Христос! Truly
, Christ Is Risen!
+ Митрополит Агафангел
+ Metropolitan Agafangel
Одесса, Пасха Христова 2017 года
Odessa, Pascha of Christ in 2017